PedScope - Pedigree & Genetic Diversity Analysis Software
PedScope was a software product for advanced population analysis, gene diversity measurement, inbreeding calculation and making recommendations for prospective matings.
This product has been retired. We no longer sell new licenses for PedScope or support extensions. Sorry!
Support & Downloads For Existing Customers
You can continue to obtain the download for your version of the product here.
If you are still in date for support you can continue to contact us for product support issues using the customer service helpdesk.
Breeders Assistant, Extended Edition
Some of the features of PedScope have been incorporated into the new Extended Edition of our separate Breeders Assistant pedigree software product.
This includes the bulk computation of inbreeding coefficients, pedigree completeness indices, and genome completeness for a breeding population; founder analysis (the computation of the contribution, alleles retained, and founder genome uniqueness of a breeding population, including the number of founder equivalents, the number of founder genome equivalents, and the number of effective ancestors); and can calculate/display relationship/kinship matrices and mean kinships for a breeding population.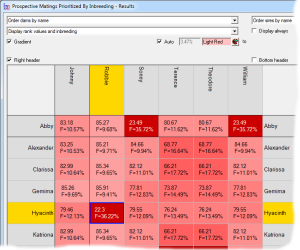 It also includes powerful tools for prioritizing prospective matings for every possible sire/dam pairing within the actively breeding population, as an aid to making better breeding decisions.
E.g. the screenshot shows prospective matings displayed as a matrix with the sires along the top and the dams down the side. Each cell shows the ranking and, optionally, other computed values related to the mating. The cells can be color coded according to the ranking. In this case the pairings are ranked by inbreeding, with deeper colors representing higher inbreeding in the offspring.
Prospective matings can be ranked in 3 ways:
By Inbreeding - This ranks according to the inbreeding of the potential offspring, and possibly also the inbreeding and pedigree completeness indices (PCI values) of the parents. The PCI value is a useful means of incorporating the reliability of the inbreeding coefficient into the ranking algorithm: when insufficient ancestry is available the computed inbreeding coefficient may be unrealistically low and it may be desirable to avoid such matings.
Rank By Influence - This ranks by taking into account the extent of kinship the potential offspring will have with chosen individuals that have either 'desired' or 'unwanted' influence. It gives higher priority to matings where the potential offspring will have greater kinship with the desired individuals, and lower priority to those with greater kinship to unwanted individuals. An important application of this technique is when there are key individuals within your breed that are particularly 'good' in some respect e.g. adherence to a breed standard, and you wish to breed to maximize the kinship the offspring will have in relation to those individuals. It is not necessary for these influential individuals to be ancestors. They just need to be related in some way through shared ancestry and - of course - both they and their ancestors need to be within your data.
By Gene Diversity Metrics - This ranks by taking into account metrics concerning overall genetic diversity of a breeding pool, such as changes in mean kinship or to prioritize prospective matings to favor those that will increase the representation of genes from under-represented founders, or from parents with higher genome uniqueness, and other measures of genetic diversity.
For full details including screenshots, videos, and trial software see the Tenset pedigree software website.